Visit of FUNDAE and SEPE at our facilities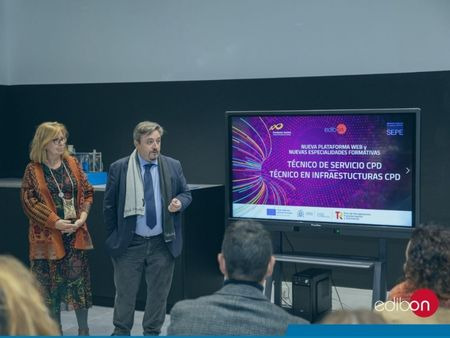 We have received at our facilities the official visit of FUNDAE and SEPE (Servicio Público de Empleo Estatal) the presentation of the practical training project for infrastructure and service technicians for CPD, platform for training people for the management of CPDs.
This innovative project will train future service and maintenance professionals for Data Processing Centers.
The first pilot group will take place between February and September 2023 with 75 future CPD service and infrastructure technicians.
The students of the course will have access to 2 free training itineraries and 17 specialties that will be in the SEPE specialties catalog and will respond to the demand for professionals in the sector, in full expansion through an e-learning platform and LMS or SGA.
The students of this training course will have the possibility of carrying out practices by controlling our equipment. This will allow them to be highly qualified in this area. In addition, we will cover the urgent needs that this sector requires.
It is an honor for us to be able to contribute to the future of our country, carrying out projects like this.
The newspaper Servimedia and La Vanguardia wanted to echo this news.
Ask for information